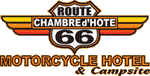 Merchandise
We have ladies tops for sale at 13 Euro and T shirts at 15 Euro. They are available for sale here or we can send them via mail order for you for a Paypal payment. Postage from France is 10 Euros.
Ladies tops have a white screen to the front and are available in Medium and Large.
Mens T shirts have a screen to the front and rear and also on the right sleeve and are available in M, L, XL, XXL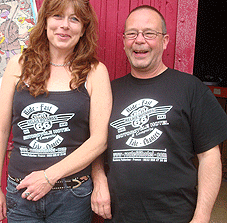 .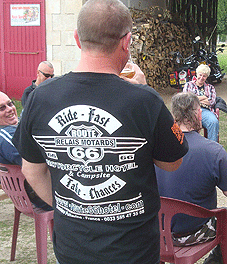 Home Hotel Pictures Room PicturesHarry's Bar Maps Directions Contacts Prices Booking Restaurants Links
Route 66 Hotel, The biker friendly French hotel, campsite and gites dedicated to the motorcycle and motorcyclist. Motorcycle friendly quality hotel facilities and motorcycle friendly camp site created by bikers for bikers. Set in 5 acres of land South of Poiters, in Bussiere Poitevine, approx. 300 miles into France from the channel.
(Biker friendly, motorcycle friendly hotels, gite and campsites in France).