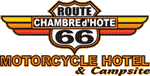 Contact Details
Please book in advance,
We do get busy and we do get booked up, so to guarentee a room or camping space please email to book in advance and we will be here to welcome you when you arrive, thank you.
Telephone Harry on 0033 630117433


The address is
Route 66 hotel, 107 Avenue de la Liberation, 87320, Bussiere Poitevine, France


You can e-mail me on:
We would love to hear from you even if it is just to say that the weather is yukky in England (or anywhere else for that matter) (hearing that the weather is yukky in England would make us very happy especially if we were basking in the warm French sunshine).
Home Hotel Pictures Room Pictures Campsite Harry's Bar Maps Directions Contacts Prices Booking Restaurants Links
Route 66 Hotel, The biker friendly French hotel, campsite and gites dedicated to the motorcycle and motorcyclist. Motorcycle friendly quality hotel facilities and motorcycle friendly camp site created by bikers for bikers. Set in 5 acres of land South of Poiters, in Bussiere Poitevine, approx. 300 miles into France from the channel.
(Biker friendly, motorcycle friendly hotels, gite and campsites in France).